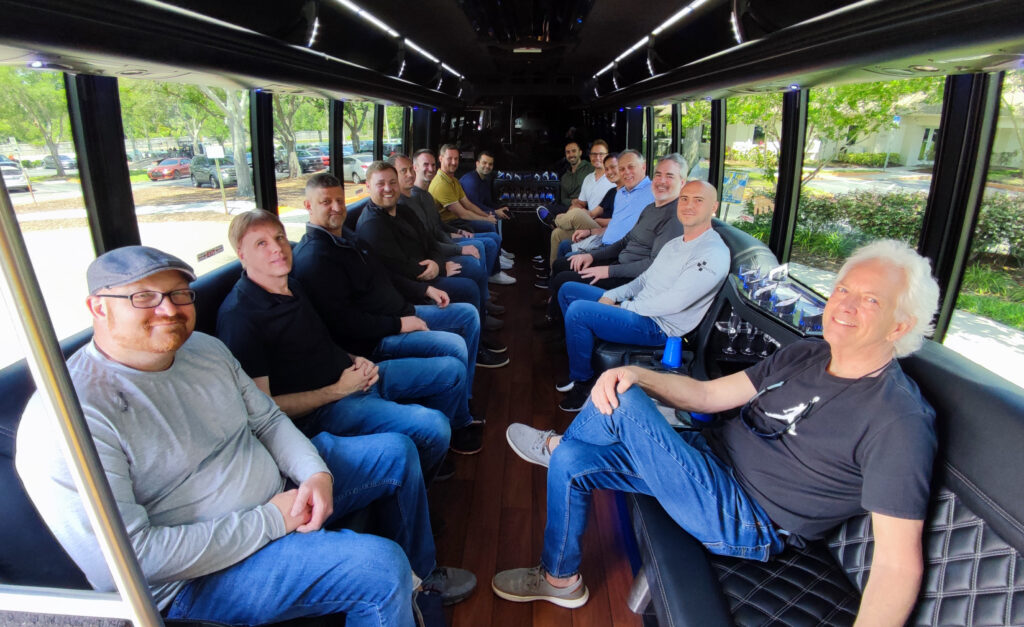 At WestCMR, we believe in the power of vision. Every year, when we meet for JAM, our founder and CEO Randy Ware mentions his crystal ball — the physical object that he uses to connect to his vision for the future. All of us have crystal balls; they were gifts from him. Every so often, he reminds us of their power, and of the power of thinking —and working— ahead.
This week, the men of our Extended Leadership team got to experience another example of the power of vision in business, as they were all treated to a private screening of the movie Air. The movie retells the story of Nike's Sonny Vaccaro pursuing basketball rookie Michael Jordan, creating a partnership that revolutionizes the world of sports and contemporary culture.
Here is what our team had to share about the experience:
Rob Law, Director of Information Systems and Finance, said the movie was "emotional, and from my era." He especially appreciated the message to "go with your heart."
"It was a great teambuilding experience and the movie was inspiring," added Elvis Mrsic, Director of Operations. "What I saw, was a risk/reward scenario with a twist, that reminds us that following the inner voice is sometimes the best approach."
Aidan Francis, National Account Manager, shared that "it was interesting to learn about the history of Nike landing Michael Jordan. Their basketball division was failing and this was their hail Mary attempt to turn it into a thriving division." In Aidan's mind, the movie affirms that "sometimes you have to trust your gut in life, even if others don't see your same vision. Believe in yourself."
"You have to take risk sometimes to make it," is what Mickey Hung, Manager of Sales for our West Region learned.
"A key message shared in the film was to believe in yourself when no one else does," commented Jeff Hamlett, Information Systems Support Specialist. "Being passionate about what you do is key to being successful," said Hamlett.
Rich Blanchard, National Account Manager, agreed with this sentiment. "One big takeaway was how they illustrated calculated risk, and how to properly execute it even when it may seem like all odds are against you," he noted.
John Ruppel, Manager of Sales for our GeoSurgical division, shared that he could see a lot of parallels between Nike's break into the basketball shoe market, and WestCMR's into the healthcare industry. "It takes strong principles and vision coming from the top, identifying opportunities in the industry and finding a way to make things work even when you are against the odds," he added.
Whether you use a crystal ball or not, the message is clear: in business and in life, you must have vision, and you must trust it. After all, "a shoe is just a shoe until someone steps in it."