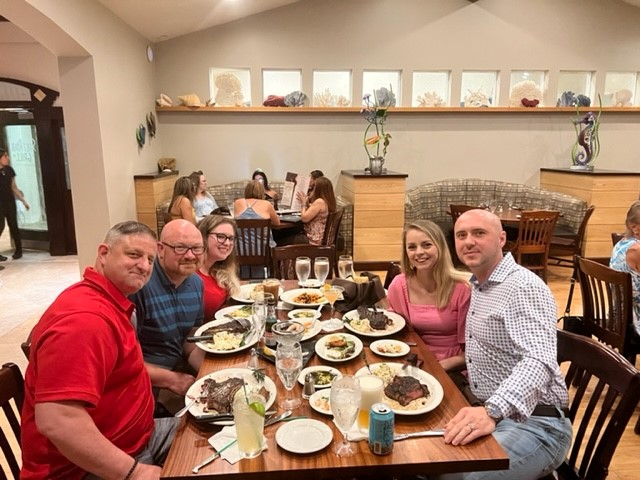 Last week, a small group celebrated the (belated) 5-Year anniversaries for Donald "DJ" Byers, Facilities Manager and David Berlin, Inventory Operations Manager. Elvis Mrsic, Director of Operations and direct supervisor for both, took the group for dinner at Salt Rock Grill to mark the occasion.
"Both DJ and Dave have and continue to play integral roles in making WestCMR successful each year," shares Mrsic.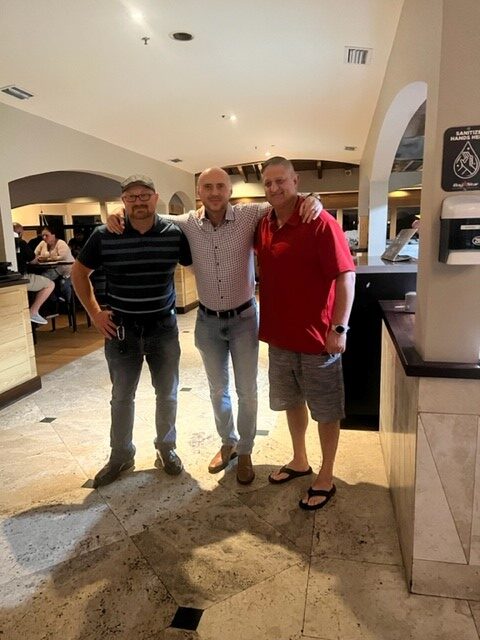 DJ started with the team as an Inventory Operations Specialist. In this role, he showed a lot of commitment and passion for this work. "I quickly learned that DJ had a unique skill set," noted Mrsic. "His passion and abilities made him a perfect fit for a role that did not exist, but that he took on with stride," he adds. There are two facilities within our campus that DJ manages to a very high standard of cleanliness, safety, and overall efficiency. "It's important to recognize, guide and help others achieve their professional goals and DJ has always gone above and beyond to help his team. I am proud of his accomplishments," adds Mrsic.
David Berlin also started as an Inventory Operations Specialist. His vast knowledge and prior work experience helped him quickly rise as an impact player, and be recognized as such. David's role in making the Inventory Operations be more efficient and guiding the team's day to day success was undeniable. His positive attitude and commitment to WestCMR is contagious and his contributions each day are a great example of our values. "Our employees are our biggest assets and David is someone who has shown commitment, grit and the willingness to help guide others to succeed. He makes it look easy and I appreciate his outside the box thinking" shares Mrsic.
Congratulations to DJ and David on a well-deserved celebration!