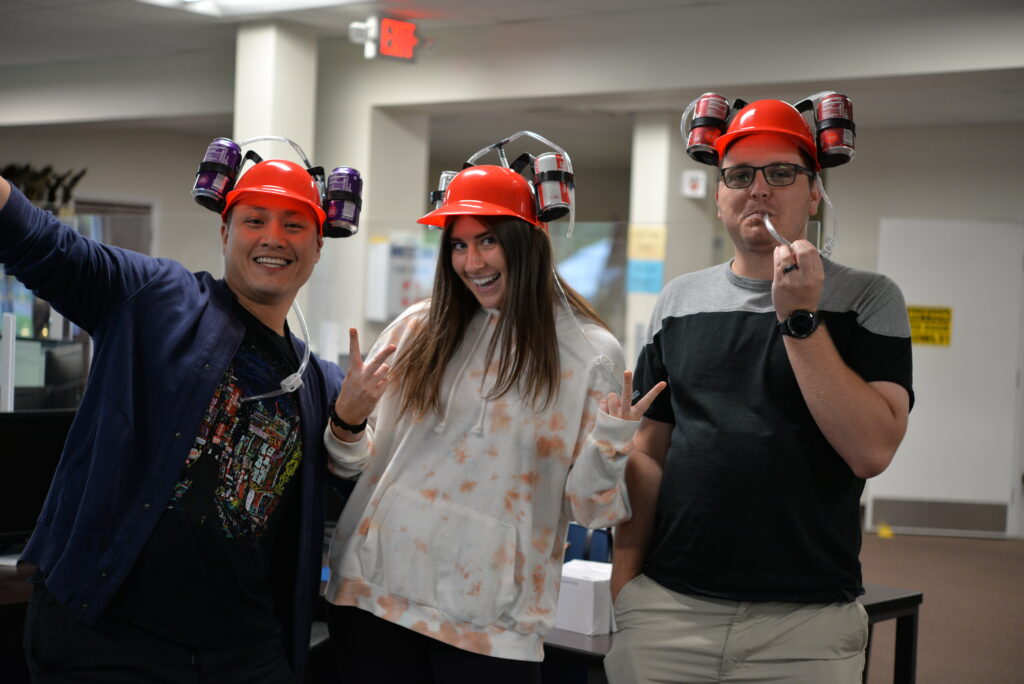 At WestCMR, we like to party. We work hard, but we also play hard.
Last week, we kicked off Summer with a week-long celebration during which we enjoyed themed dress-down days, yummy treats, fun activities and even a little friendly competition. Read on as we take you through what we did, and make sure to browse through the gallery to see the fun pictures:
On Monday, employees were encouraged to wear a College T-Shirt to work. Great opportunity to represent your Alma Mater, or to show your favorite team some support.
On Tuesday, the dress-down theme was Tampa Bay Sports — LOTS of options to choose from. We saw Tampa Bay Lightning gear (go Bolts!), Rays shirts and jerseys (go Rays!) and Tampa Bay Buccaneers logos (go Bucs!) That theme was EASY, because we are Champa Bay. We also enjoyed a morning treat from Café Getaway; Tiffany knows how to keep us sharp to beat target at end of month!
On Wednesday, some wore their best Tacky Tourist gear. It was almost like we all took a vacation, minus the nasty sunburns.
On Thursday, we dunked the CEO! Yes, you read that right — Randy Ware sat on the edge of a dunk tank and let all 55+ employees take a shot (or 3) at dunking him in the tank. Some tried, many succeeded, and Randy was a great sport. Through the afternoon rain showers, he was probably happy to see he wasn't the only one getting wet. While team members took turn attempting to make Randy take the plunge, we also took turns ordering Frozen Yogurt with ALLLLLLL the toppings from Froyo Fresh. It was also "Hat Day", so fedoras, baseball caps and even beverage holder hats were seen around the office.
On Friday, the fun week culminated with a Red, White and Blue dress code, a catered BBQ lunch, and the Annual WestCMR Corn Hole Tournament. Teams signed up under creative names, and some even tried to sneak in a practice run before we rang the bell at 10 AM. The on-and-off rainy weather pushed us under our covered patio, which handicapped the players but allowed for continuous games to be played. 16 teams started, and after the first round only 8 remained. They all played their best, but only one could come out victorious. Some observations were made, especially regarding how good our Inventory Operations team members are at corn hole. Some questions were raised, such as "do they have a set in the warehouse that they practice on year-round?". Some doubts bubbled up as to whether the reigning champion would win again this year. After the most fun day, we all attended the final round: Dirty Dogs v. Corn Dogs, and declared the Dirty Dogs (aka Aidan Francis, reigning champ, and David Berlin) victorious.
After crowning the Cornhole Champions, it was time to announce our "Most Festive" winners — those who went all out to go along with our themes throughout the week. Johnny Tejeda and Eli Rhoads from Inventory Operations took bronze and silver, respectively, and Blain Falone, from our West Sales Team took the gold. Blain, who had mentioned "never getting very involved" at his previous places of employment, sure showed us what it looks like when we have fun at work.
Thank you all, for the most fun week. Let's do it again soon!