Hurricane Irma will be remembered as the strongest Atlantic storm in history, and for the Tampa Bay community, it became one of the scariest moments as the storm took a different path and headed directly towards our area.
In moments of crisis and chaotic situations, people, communities, and businesses must act fast and sometimes make hard decisions. When the announcement was made that Hurricane Irma's path was straight to this area, there was limited days' notice, and many residents of Tampa Bay area were asked to evacuate their homes. People scrambled to pack up their personal belongings, family keepsakes, and pets and set off to find a place to shelter through the storm. Others hopped in their vehicles, desperately trying to find fuel to make it out of the area to a "safer" zone, and then there were some who decided to hunker down in their homes and hope for the best outcome.
For many area businesses, business owners had to decide when to close and put protocol in place to protect the company's assets. For West Coast Medical Resources, LLC (WestCMR), its assets are its employees.
WestCMR closed down its doors on Friday, September 8th to allow employees to travel, prepare their homes and families, and get to the stores to buy anything they may have needed for Irma's arrival. But, that's not the only commitment WestCMR made to its employees – WestCMR purchased 1,000 sandbags to protect the employees' homes and the office. WestCMR purchased non-perishable food items, batteries, flashlights, first aid kits, toiletries, etc. for employees to take with them when they left work on Thursday, and the office was offered to employees as a shelter for them and their families to use throughout the hurricane.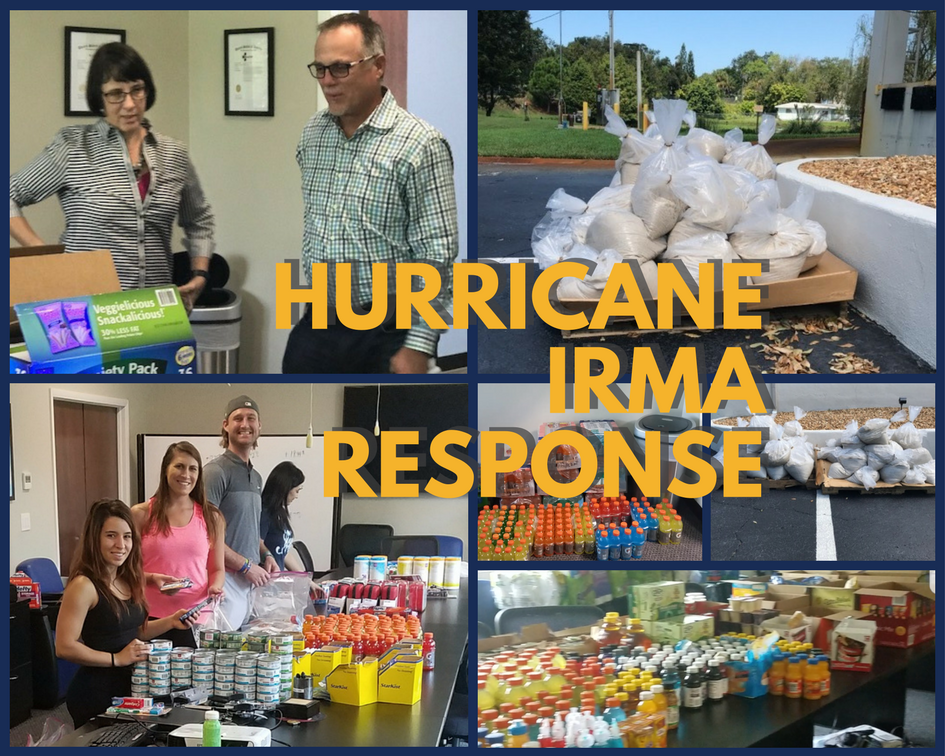 During Hurricane Irma, WestCMR did not receive any damage. Power was supplied to the building by a commercial generator which is directly connected to the gas lines. The temperature and humidity stayed constant in the warehouse and throughout the building. Because it never lost power, work became a comfortable place to return to, since most of the company's employees did not have power.
Post-Hurricane Irma, WestCMR again has offered up its four walls and amenities to employees who continue to not have power at their homes, along with the non-perishable goods that were left over. The company has donated the remainder of the non-perishable goods and toiletries to those in need. We have donated boxes of goods to local firefighter, Mike Jones, whose family lost their house to a fire during Irma, as well as provided donations to a local church and Metropolitan Ministries.
WestCMR is truly thankful that all employees of the company have made it through Mother Nature's wrath and continues to keep all those who were affected by Irma in any way in our thoughts.