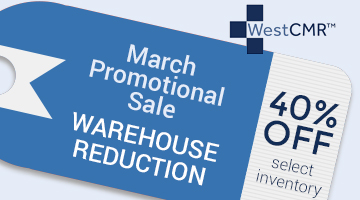 All year long, we're "mad" about the waste in surgical supplies. That's why we exist!
Our passion is helping hospitals and surgery centers recover wasted dollars on surplus surgical supplies. It's a problem we've been addressing since 1997 when our founder, Randy Ware, set out to put money back into healthcare facilities and reducing the amount of surgical supplies that end up in landfills.
What better month than March to express our "madness" by sharing our own surplus with the industry.
So, we're excited to empty our warehouse of surplus supplies through a "mad" reduction in price to the tune of 40%!
Check out our discounted surgical supplies marked down by 40% here.  With over 5,000 codes, you're not going to want to miss out on this special offer. WestCMR's Surgical Surplus Marketplace is hands-down the best place in the healthcare industry to recover your health system's surgical supply waste.
Visit our March madness special now.