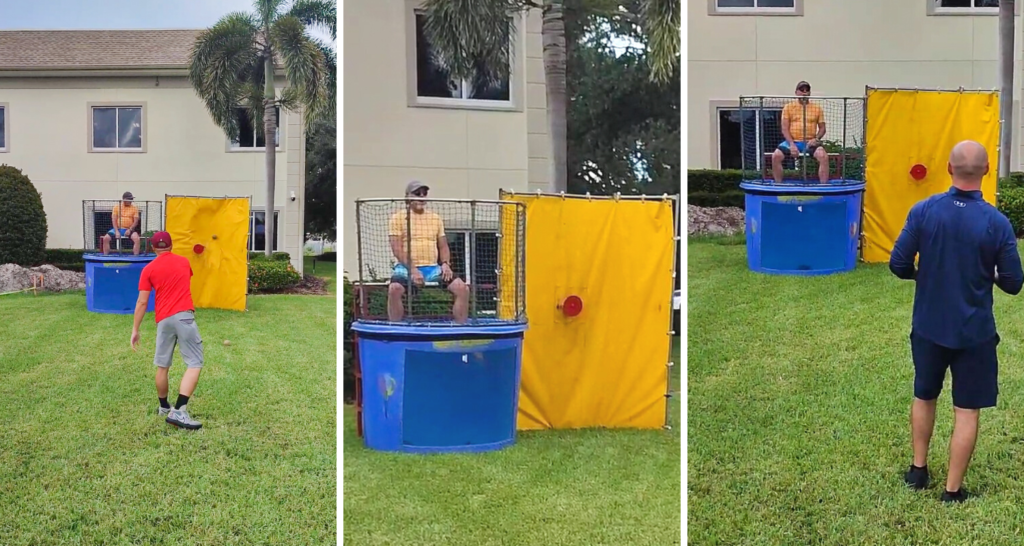 The end of Summer can mean many things, like back to school, wardrobe change, or the early arrival of pumpkin spice and all things Halloween. At WestCMR, the end of Summer is just another excuse for a celebration — for a good cause.
On Friday, August 26th, we hosted a Funday Fundraiser at our campus in Clearwater, FL. The goal of the day-long event was to build camaraderie through a slightly competitive endeavor: dunking the boss. But in true WestCMR fashion, we couldn't pass up the opportunity to also raise funds for one of the many charities we support.
In exchange for a $25 donation, team members received three throws, one entry into a $100 gift card giveaway, and two raffle tickets. Team by team, employees came out to pitch their balls and (hopefully) get the CEO wet. Randy started the day out with a smirk, and made his best attempts at persuading the team to give him a break, in vain. It's hard to say exactly how many times he got dunked in the huge tank of water he was sitting at the edge of. What is easy to say is that the roaring cries from the crowd put a smile on everyone's face, even his.
After Randy had a chance to shower and change, the entire team met on the sales floor. We pulled a winner for our $100 gift card giveaway, and two winners for our raffle. Then, we all made our way outside to enjoy frozen yogurt (and all the toppings) from vendor Froyo Fresh.
Fun was had and funds were raised during our Funday Fundraiser, which means this event was an all-around success. We are grateful for a CEO who doesn't take himself too seriously, and is always willing to mix business with pleasure. But watch out Randy: most of us are already practicing our pitches for next year's edition…