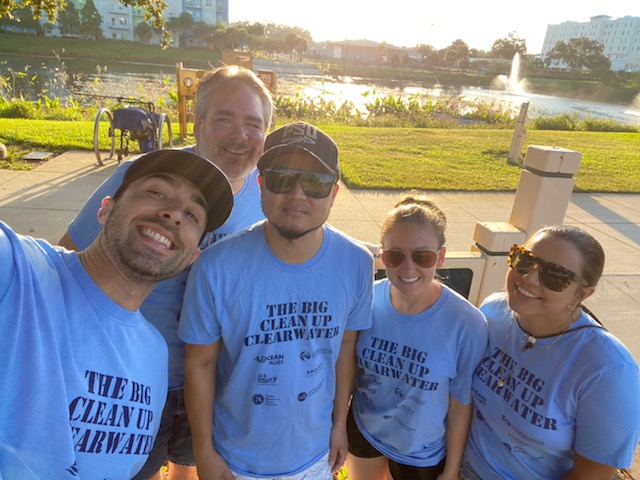 We LOVE volunteering — but if you read our blog frequently, you already knew that!
WestCMR employees receive two paid "Volunteer Time Off" (VTO) days every calendar year, as part of our benefits and perks package. Many of our team members choose to participate in cleanups; although it's unfortunate, we live in a coastal community that can always use some TLC. Indeed, over 80 percent of litter originates on land and ends up in our waterways.
Yesterday, a group of our very own took over Prospect Lake Park as part of The Big Cleanup Clearwater: a city-wide initiative to clean up our beautiful outdoors. As previously reported by Patch.com, this week-long effort is the largest communitywide cleanup event in Clearwater's history, involving over 1,200 volunteers.
Armed with gloves, trash bags and grabbers, boasting branded t-shirts and safety vests, our courageous advocates met up on S Prospect Street in the early morning to sign a waiver and listen to the safety instructions. Our group captain, Jeff Hamlett, who received training via Zoom a week earlier, led the orientation and answered any questions. Before long, the group was off to clean the park and its neighboring streets.
All in all, our small but mighty group filled up seven 30-gallon trash bags. The most unusual item they found was a pair of shoes, as pictured above. We are so proud of their efforts!
If you too would like to be part of the solution, not the pollution, join The Big Cleanup Clearwater on Saturday, October 16th. You can find all the information on their website.