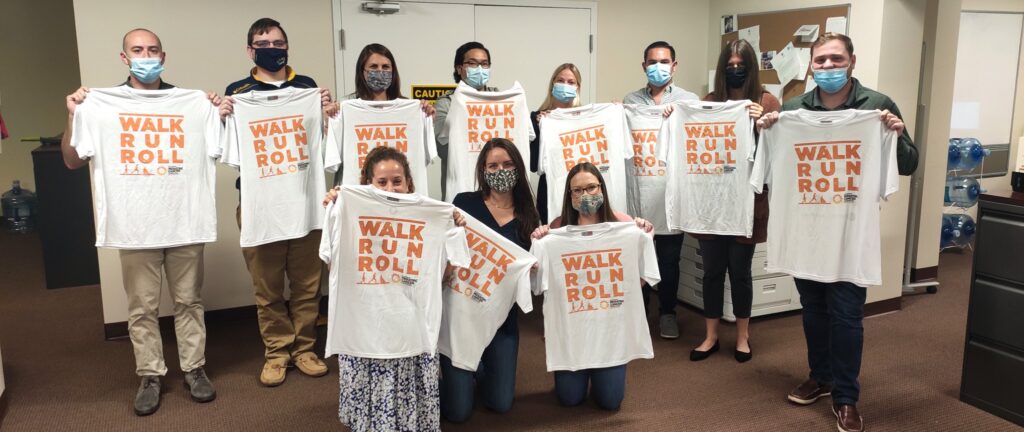 WestCMR has been a longtime supporter of the National Pediatric Cancer Foundation. For years prior to the pandemic, we hosted on-site "Cut/Color funds the Cure" events, where members of our team committed to getting their hair cut or colored. In return, WestCMR donated funds to the NPCF.
This year, the foundation hosted a virtual fundraiser: the Walk, Run, Roll challenge. From April 1st to April 30th, participants were challenged to walk, run or roll 4.3 miles, 43 minutes, or 43 miles, to honor the 43 children diagnosed with cancer each day in the US. WestCMR was a sponsor of the event, and we called on our whole team to participate: for each challenge completed, WestCMR vowed to donate an additional $43 to the NPCF.
In total, 23 of our team members participated in the challenge, some even completing it multiple times. Some walked with their kids, some with their partners, and some with their coworkers. In under 30 days, team WestCMR raised a total of $1,989 — the third largest team fundraiser for the event!
We would like to recognize our challengers:
Rick Austin
David Berlin
Elise Bexley (and baby Corbin!)
Sandra Carvalho
Danielle Drayer
Blain Falone
Allison Foy
Joshua Golden
Camille Hebting
Shaoyi "Mickey" Hung
Shelby Jackson
Eric Jens
Anthony Leandri
Michael Mahoney
Kassandra Martin
Nicole Misener
Savannah Musser
Chantha Nak
Stacey Rhoads
John Ruppel
Ryan Vomacka
Sheila Wasser
Melissa Wilson
We were ecstatic to be able to support the NPCF's mission of research to find less toxic, more effective treatments for childhood cancer.