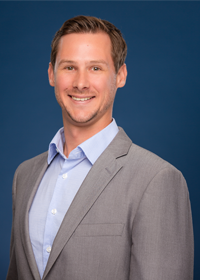 What is your position at WestCMR?
Strategic Accounts Manager for East Acquisitions
How long have you worked at WestCMR?
4 years and 7 months
Describe yourself in 3 words.
Adaptable – Determined – Enthusiastic
Name one thing on your bucket list.
Hike to Everest Base Camp
Here are a few fun facts about Aidan:
He is Australian.

He helped lead GSU baseball to their first conference championship title and regional appearance.

He has a daughter who is two months old.
What do you believe sets WestCMR apart?
We genuinely care, not only about our customers and employees but our community as well!
What Aidan's team says about him:
"Aidan is a great leader and role model for our newer sales members. He brings positivity to the team and always keeps me smiling with his Australian flare!" – Elise Bexley

"Aidan has helped me grow professionally during my time at WestCMR. He is dependable and always has the answers to my questions and is happy to explain in detail." – Cecile Estheimer