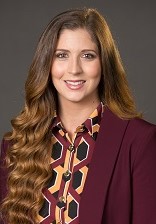 What is your position at WestCMR?
Strategic Accounts Manager for Central Acquisitions
How long have you worked at WestCMR?
4 years and 6 months
Alma Mater?
Florida State University – Go Noles!
Describe yourself in 3 words.
Kindhearted – Fashionista – Quirky 
Name one thing on your bucket list.
To become an integral part of a philanthropy I am passionate about.
Here are a few fun facts about Elise:
She can speak fluent French

She has 3 pet chickens and a dog

She is married to a Florida cattle rancher
What is one thing you have learned during your time at WestCMR?
I have learned to set the bar higher than you think you can reach, then to raise it even higher once you do!
Explain your favorite WestCMR experience. 
One of my favorite WestCMR experiences was exhibiting at the AHRMM Conference in San Diego, CA. It was awesome to connect face-to-face with healthcare leaders from across the Country. 
What Elise's team says about her: 
"Elise is a great teacher who helps the Central team grow and prosper. She is always there to listen, she takes into consideration everyone's opinion, is empathetic, and organized."  – Jessica Makarious
"Elise has great industry knowledge and is always taking time to lend a helping hand and teach those around her." – Aidan Francis