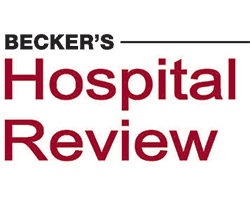 We are thrilled to be honored by Becker's Hospital Review as one of the 150 Great Places to Work in Healthcare 2019, for the sixth year in a row!
For more than 22 years, WestCMR has been devoted to collecting unused surgical supplies and finding ways to reuse them without sending them to the landfill. In addition to competitive benefits, WestCMR offers employees paid time off that pays 150 percent when used, 16 hours of volunteer time off and professional development training programs. Employee retention is high, and to honor long-tenured employees, the company provides a chance to win a trip at five, 10 and 15 years of service. In 2017, the Clearwater Regional Chamber of Commerce named WestCMR the Large Business of the Year. The organization also has an onsite fitness center and wellness program benefits.
A Message from Founder Randy Ware
As the owner of WestCMR, our team is a great source of pride. Knowing that Becker's Healthcare carefully considers its candidates for their Top 150 list and has selected the WestCMR team six years in a row is an honor to be grateful for. We will continue to do things the RIGHT way, by living the five core values of our organization ……… Respect, Initiative, Gratitude, Honesty & Teamwork.
Our business is very unique, and we are presented new challenges and opportunities daily, and I believe our team approaches each with tremendous poise and professionalism. Couple that with our commitment to the community we live and work in as well as those of the facilities we serve is icing on the cake.
More about Becker's:
Becker's Hospital Review list was developed through a combination of nominations and editorial research. The organizations on this list were chosen for their benefits offerings, wellness programs, commitment to diversity and inclusion, professional development opportunities and environments that promote employee satisfaction and work-life balance. Many of these organizations have been recognized by national, state or local organizations for their workplace culture or employee satisfaction scores.
The 2019 list includes hospitals, health systems and organizations committed to fulfilling missions, creating outstanding cultures and offering competitive benefits to their employees.