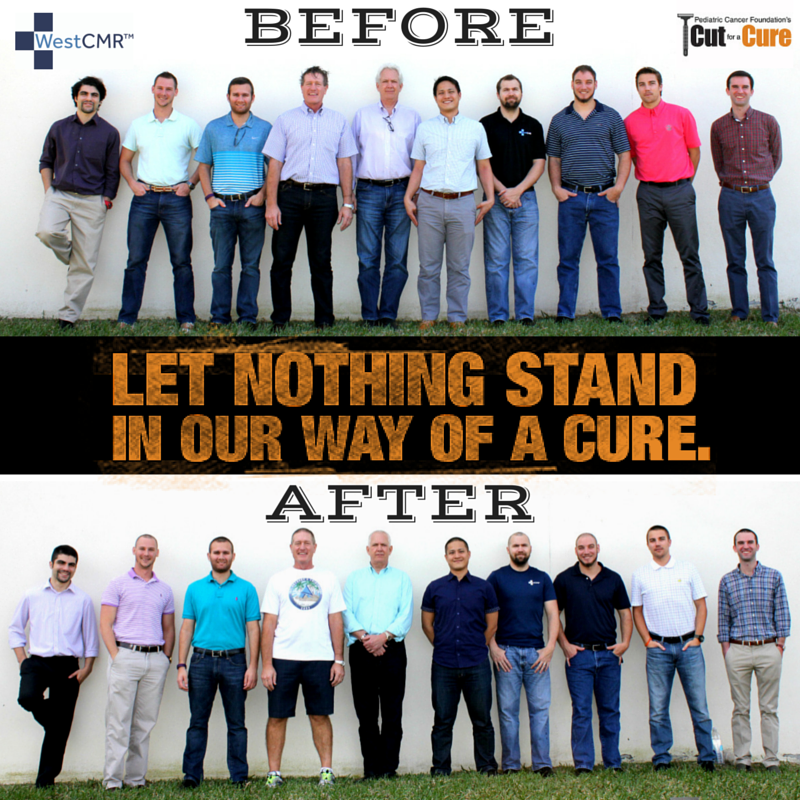 When we heard about "Cut for a Cure," our men volunteered, without hesitation, to join the cause.  Twelve men of WestCMR went under the clippers Friday morning to raise money and awareness for Pediatric Cancer Foundation.
Did you know that this year alone, 1 in 285 children will be diagnosed with cancer?
Our guys are joined by the Tampa Bay Rays, the Tampa Bay Lightning, and a multitude of men, women, and children around the Bay Area who think this statistic is way too high.  From March 2 to June 15th , these groups will cut their hair to raise awareness and donations while showing their support.
A special thank you to the following team members for stepping up for a valiant cause:  Rich Massell, Will Crispell, Todd Ward, Mickey Hung, Aidan Francis, John Ruppel, Preston Martin, Alex Aponte, Rob Law, Scott Bartholmey, Randy Ware, and George Ware.
When it comes to thinking of kids going through such a challenging time, Will Crispell had no doubts about why he wanted to participate.  "Being the proud father of a beautiful little girl, I can only imagine the pain and the heartache that a father and mother would go through when watching their child suffer from cancer," said Crispell.  "Every day that I wake up and get to look at my daughter's beautiful eyes, I feel unbelievably blessed because I know not everyone has the same privilege of having a healthy child."
Aidan Francis expressed a sentiment felt by everyone on the team.  "Unfortunately, like so many others, I have both family members and friends who have been diagnosed with some form of cancer. So when I found out WestCMR was participating in 'Cut for a Cure' it was a pretty easy decision for me to make. If shaving my head meant helping raise awareness and funds for such a good cause then it was the least I could do."
We're committed to making a difference for these children and their families, and we implore you to join us in making a stand and finding a cure.  We're already kicking off our donation with $100 pledge per WestCMR participant, making a total of $1,200.  Our goal is to reach $5,000 – but we need your help.  Even $10 can make a difference.
Please visit our team donation page to make a contribution.