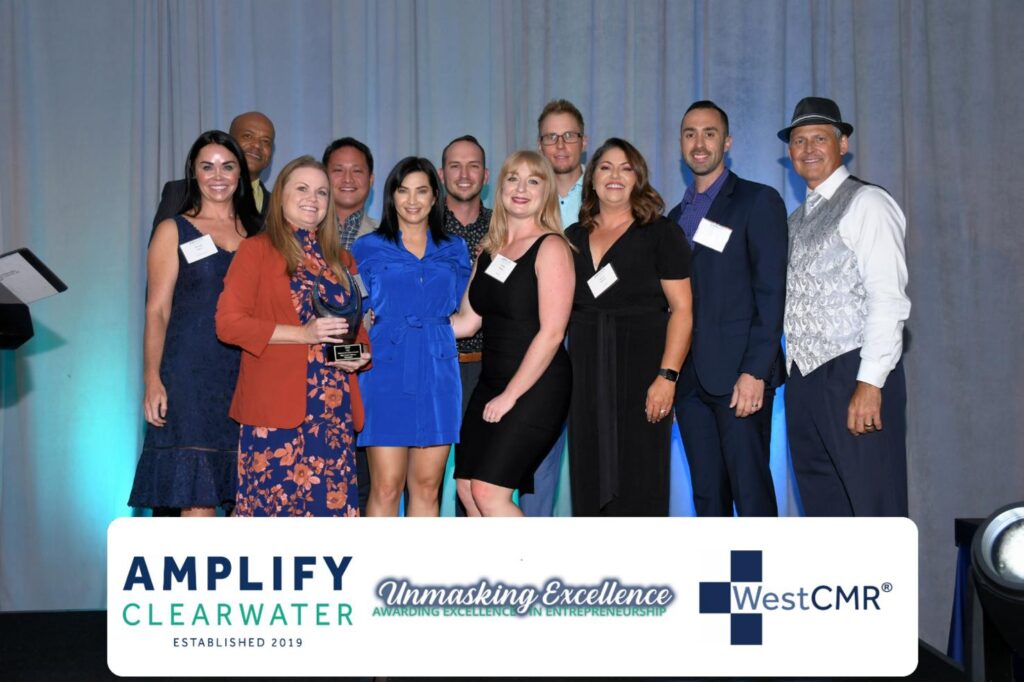 After a long 18 months with very few in person events, AMPLIFY Clearwater, our local chamber of commerce representing members across the greater Clearwater area, held its inaugural Business Awards Event, subtly titled "Unmasking Excellence" on October 20th, 2021. The Dunes Ballroom at the Wyndham Grand Clearwater Beach resort was set up theater style, with pods of chairs to make attendees feel at ease with social distancing, and a few high-top cocktail tables. The event committee created table centerpieces with colorful eye masks, which guests could decide to wear for the masquerade-themed evening.
Soon after our team arrived and made their rounds to say hello to peers, the event MC, Spectrum Bay News 9 Anchor Trevor Pettiford, took the stage to officially start the award ceremony. At his side was chamber CEO Amanda Payne and Board Chair Scott Goyer, who stayed on stage to congratulate all winners. WestCMR was honored with the Business Excellence Award for companies of over 25 employees, along with finalist Morton Plant Hospital.
If the picture above is any indication, gratitude was felt and shared by our team members who attended and came up on stage to receive the award. "This recognition means a lot to us," said Sandra Carvalho, Director of Global Sales, Acquisitions and Marketing for WestCMR in her short acceptance speech. She mentioned how hard the entire team has fought to continue to help the healthcare industry through the pandemic, and thanked the Chamber and the audience for the honor.
At WestCMR, we believe that business excellence is defined by how well we serve every single one of our stakeholders: our employees, our customers, our community and our planet. As we look forward to our 25th anniversary next year, we are overwhelmingly proud to have been recognized for the impact we make, and the lives we change.