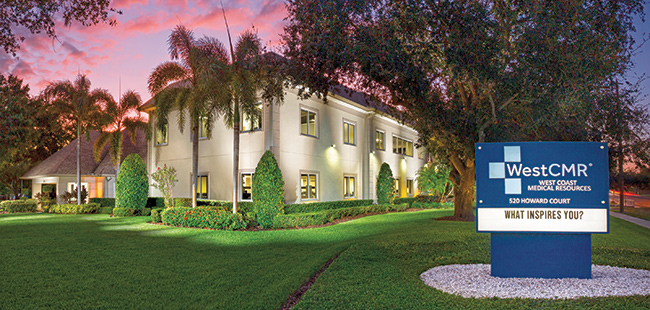 When surgical supply reseller WestCMR was founded in 1997, the mission at the time was not to capitalize on the newly-minted concept of "Triple Bottom Line (TBL)" accounting. Rather, the plan was to transform how the health care industry addresses and monetizes tens of millions of dollars in unused surgical supplies that are discarded every year.
TBL creates business value by delivering enhanced benefits for profits, people and the planet. What WestCMR and its growing client list soon discovered were TBL's actionable, positive realities.
The model remains simple: WestCMR buys from hospitals aging but in-date and viable surgical supplies manufactured by top health care brands. It then resells those products to hospitals and surgical centers across the country and around the globe at 15% or more off the price of brand-new products.
Clients selling their aged products recoup some of the original investment from supplies that otherwise would end up expired and thrown away. Buying these products saves money with each purchase, whether large lots or individual items.
The numbers are mind-boggling. Some 20% of surgical supplies never get used, and operating rooms generate 2,000 tons of waste daily, which is part of $935 billion in annual waste nationwide.
Whether for the company, or its clients, embracing TBL has helped to create a well-run, profitable business and a best-in-class employer … WestCMR.
The First TBL Principle: Profits
WestCMR has achieved consistent, double-digit, year-over-year growth, and in 2020, anticipates growth in excess of 20%. The growth is fueled by expansion into new markets and product lines, like orthopedic equipment and vascular supplies, and a client base growing by 30% every year. With each new market come new opportunities for WestCMR's buyer and seller clients.
This has proven true globally, especially for Latin America and the Caribbean. WestCMR, and subsidiary GeoSurgical, work with 1,200+ material managers in thousands of hospitals and acute care facilities throughout the U.S.
The Second TBL Principle: People
Operating lean, WestCMR reinvests back into its facilities and people. Named by Becker's Hospital Review among "150 Top Places to Work" every year since 2014, and having earned a 2019 GrowFL Award as a Top 50 Florida Company to Watch, WestCMR's growth has enabled the company to provide stable livelihoods for 65 Tampa Bay area families. Its current $2 million headquarters expansion will add another 4,500 square feet to the Clearwater, Florida, facility, and at least another 15 people to the WestCMR team by the end of 2021.
Among market-leading benefits, WestCMR offers an onsite fitness center and competitive benefits like profit sharing, a 401(k) plan, and educational reimbursement.
The Third TBL Principle: The Planet
For its 23 years, WestCMR has made a significant global impact. Expired products it cannot sell are sent from its warehouse — at the company's expense — for disassembly, recycling, and reuse of metal, rubber, and other components. First to market in its category with sustainable practices, last year WestCMR became a "zero landfill" company. It's estimated that 20% of every dollar spent on surgical supplies in the U.S. is product eventually shipped off unused to landfills. For WestCMR clients alone, that's 25+ tons of waste recycled in 2019. The forecast growth is expected to double the zero-landfill relief to over 50 tons in the coming year.
"The Planet" of course, includes the community WestCMR calls home. Whether speaking at industry events, or meeting with current and prospective customers, its team leads by example in counseling health care executives to embrace sustainability. Additionally, in 2020, WestCMR will budget over $300,000 to philanthropic giving, and surpass $1 million in cumulative contributions. The rooftop entertainment area of its new headquarters will host community chamber of commerce events and charity fundraisers. The "Behind The Scenes" TV show hosted by Academy Award winner, Laurence Fishburne, recently profiled the WestCMR team's work, and its commitment to local and global charities to be aired on PBS, MSNBC and CNN.
"For hospital and surgical center CEOs, CFOs, and supply or materials managers, the message is clear," says WestCMR Founder and CEO Randy Ware. "Stop losing money from your storerooms and bottom lines. Instead of another trip to the landfill, recoup money that can be reinvested in improved employee benefits, bolstered budgets, or your community. That's a bottom line that will leave your business and the world a better place."
Randy Ware, Founder and CEO of WestCMR, consults with C-suite health care executives to maximize surgical supply purchasing and management practices. Reach Randy at rware@westcmr.com or learn more at WestCMR.com.