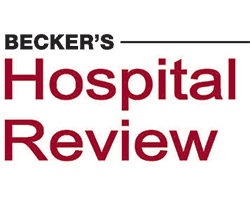 This month, Becker's Hospital Review recognized WestCMR as one of the 150 Great Places to Work in Healthcare. We are thrilled to receive this receive for the fifth year in a row. Without a nurturing corporate culture and wonderful employees, our success and longevity would have been much harder to attain.
WestCMR has over 22 years of experience at providing surgical solutions for the hospital and surgical supply chain industry. The company attributes its success to continual dedication and investment in its employees, and surrounding communities, through volunteer efforts and charitable donations. WestCMR is proud to provide employees with a full benefits program, as well as an on-site fitness center, and comprehensive wellness program.
A Message from Founder Randy Ware
Being a business owner whose team has received this recognition five years in a row is a huge source of pride.  Becker's Healthcare doesn't take their Top 150 list lightly, and we're grateful for the ongoing recognition and affirms we continue to do things the RIGHT way, by living the five core values of our organization ……… Respect, Initiative, Gratitude, Honesty & Teamwork.
Our business is very unique, and we are presented new challenges and opportunities daily, and I believe our team approaches each with tremendous poise and professionalism.  Couple that with our commitment to the community we live and work in as well as those of the facilities we serve is icing on the cake.
More about Becker's:
Becker's Hospital Review list was developed through a combination of nominations and editorial research. The organizations on this list were chosen for their benefits offerings, wellness programs, commitment to diversity and inclusion, professional development opportunities and environments that promote employee satisfaction and work-life balance. Many of these organizations have been recognized by national, state or local organizations for their workplace culture or employee satisfaction scores.
The 2018 list includes hospitals, health systems and organizations committed to fulfilling missions, creating outstanding cultures and offering competitive benefits to their employees.