I was very fortunate to be awarded a Trip of a Lifetime from WestCMR for my five years of service.  Now with six years of tenure, I've seen the company go from eight employees to nearly 50 and growing. The office, back when, had about eight cubicles and one bathroom to now a state of the art facility with over 50 work stations and many amenities.
For my Trip of a Lifetime, I chose to go to Las Vegas and Cabo San Lucas with my younger brother, Joe, who recently graduated from Law School.  We flew out Friday, August 11th to Las Vegas.  As we got off the plane, we first saw slot machines lining the airport walls, and then we took a cab to our hotel, Caesars Palace, where we would be staying until Tuesday, the 15th.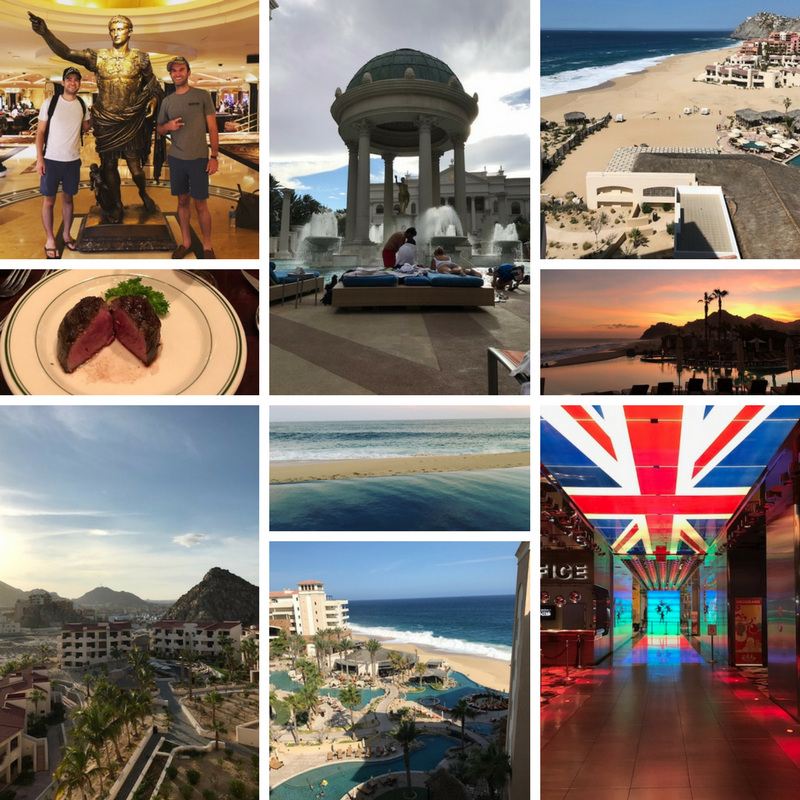 The atmosphere at Caesars was electric; we checked into our room on the 27th floor overlooking the Mirage and got unpacked.  While we were there, we decided to take in the city and do some site seeing.  We walked close to 11 miles each day!  We were able to get tickets to the Cirque du Soleil: Beatles Love show at the Mirage which featured classic songs from all of their albums, along with some acrobatic routines that went with the music.  My favorite part of the show was 'Lucy in the Sky with Diamonds.'  Prior to the show, we went to Joe's Restaurant in the Caesars Palace mall, where we both had prime steak dinners with a nice glass of red wine.  We also managed to bump into Rick Harrison from the popular TV show 'Pawn Stars' in the lobby of our hotel.  Unfortunately, he wasn't interested in buying surgical supplies, but he did have some endo mechanicals he was interested in selling.
As we got ready to leave for the airport to head to Cabo, I put $10 in a slot machine near the classic Caesar's buffet and won $50 on my last pull!
We arrived in Cabo Tuesday afternoon and proceeded to the Grand Solmar, near downtown.  We enjoyed an all-inclusive package with all you can eat and drink.  The other guests there were extremely welcoming and friendly – they were almost like family.  We left the resort the following day to explore downtown, which was about a mile away.  Along the way, we were approached by nearly 40 different locals offering deep sea fishing, scuba diving lessons, and treks out to the Pacific.  We checked out the scene in the downtown area and ended up at a local bar called 'Squid Row.'  That night we paid a visit to this famous bar and had a great time, as the employees danced on the bar tops and there were three levels of contagious energy.
The final day of my Trip of a Lifetime was spent poolside along with my brother.  The resort had an infinity pool that overlooked the Pacific Ocean.  The view must have ended up in many travel magazines.
The entire trip is an experience I will never forget and will be remembered as truly a 'Trip of a Lifetime.'  I am very grateful for WestCMR affording me such a special award and over the  top recognition!