For the past three years, I have been fortunate enough to attend an event held by Hospital Sisters Mission Outreach, a Medical Supply Relief Organization based in Springfield, IL. Since 2008, HSMO has organized a springtime event to celebrate the year's accomplishments, shed light on their current projects, and raise funds to ship containers of goods to countries in need.
This year, the annual event was as exciting and inspiring as ever. The event was held in the massive, terrifically organized warehouse. Upon entry into the venue, we were greeted by smiling faces and lively music, courtesy of the local "Samba Llamas" jam band.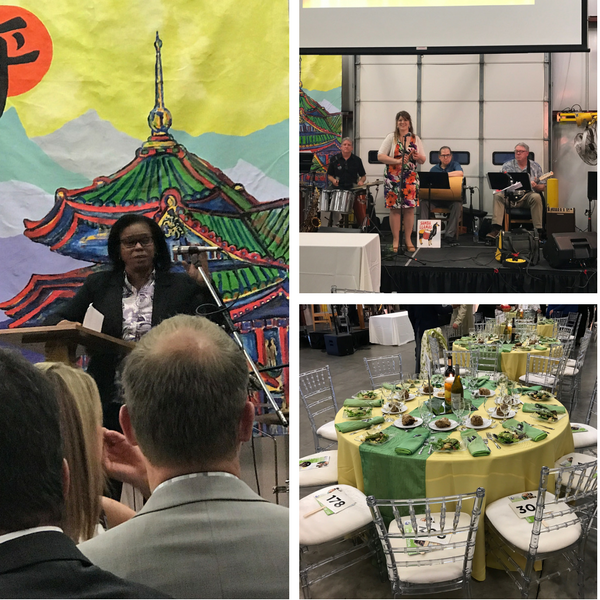 The spotlight of the gala was on the devastation in Haiti following last year's hurricane. The Hospital Sisters staff do an amazing job of tying the decorations, food, and entertainment into the geographical theme. The program consisted of a silent auction, a prayer, and a presentation by Dr. Dianne François, the Country Director for the Catholic Medical Mission Board (CMMB) in Haiti. Dr. Dianne spoke enthusiastically of the new state-of-the-art health center in Côtes-de-Fer, which only opened last month. This opening was in part possible due to support from Hospital Sisters Mission Outreach, which provided most of the medical equipment for the new facility.
One of my favorite parts of the night was the "fund-a-container" auction at the end of the event. This year, through the charity of those involved, Hospital Sisters raised $121,000, breaking last year's record of $82,000 by a landslide. These donations will enable HSMO to send at least four 40 foot shipping containers to areas in need. The containers, filled with thousands of dollars of life-saving supplies, cost approximately $30,000 each just to ship.
To date, Hospital Sisters Mission Outreach has served 89 countries in need. They have successfully shipped containers all across the world, to areas such as Togo, Liberia, Kenya, and Nepal. I am so proud to work for a company who believes it is our responsibility to support Medical Supply Relief Organizations, and I look forward to continuing our support for many years to come!