There's nothing like a clean, close shave – especially when it helps a worthy cause! The WestCMR crew joined forces again with the Pediatric Cancer Foundation and its annual "Cut for a Cure." Thanks to our 16 participants, we made a $1,600 donation to fight pediatric cancer.
Thank You Volunteers!
We are very thankful to each employee who got a new hairdo during our Cut for a Cure event. We also want to recognize some other volunteers who helped us make this a success.
Thank you, Amanda Halmon and Melissa Griffiths of Sharmaine's Salon and Day Spa in Clearwater, for your time and talents with the cuts! Contact Sharmaine's Salon and Day Spa: (727) 447-2025.
Thank you, Brandi Morris of Brandi Image Photography of St. Petersburg, for the gorgeous pictures of the event! Get in touch with Brandi:  brandi@brandiimage.com, (727) 515-6659.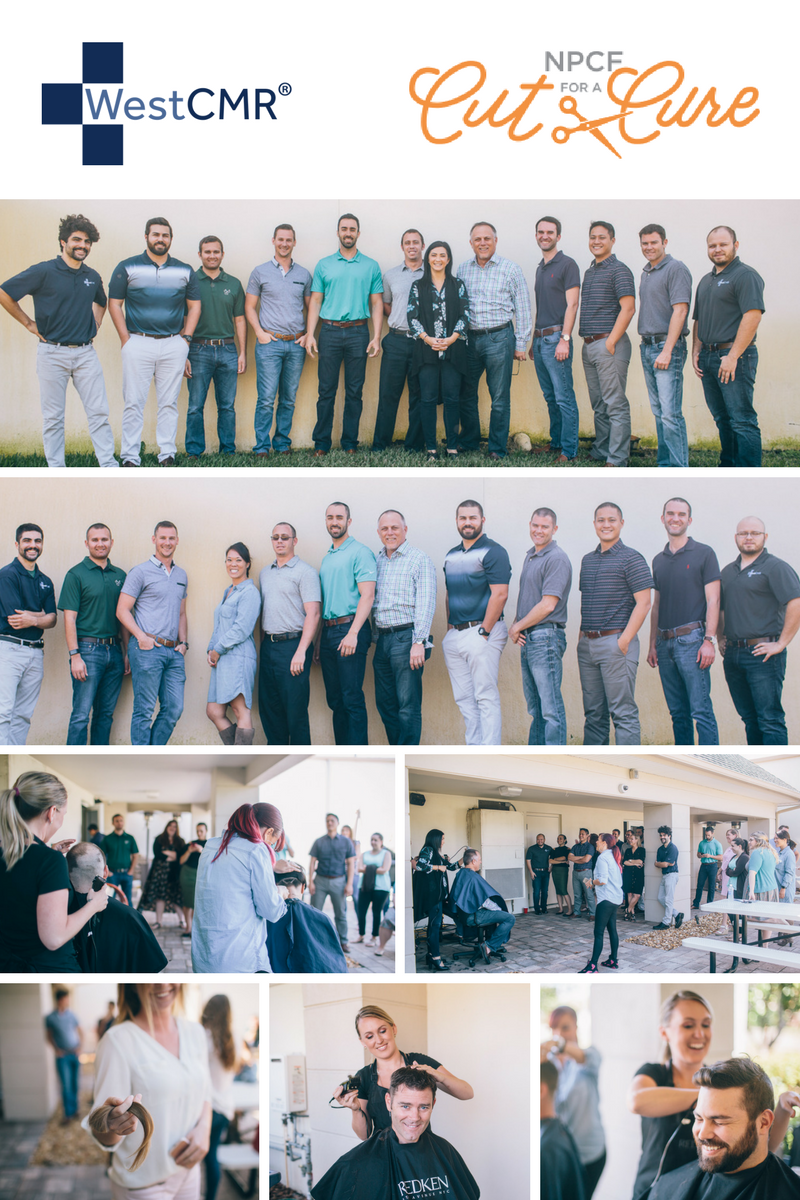 What Participants Had to Say
"For me, it's about being a good example to my employees and a reminder to all of them how fortunate we are to have our health.  Children and Children's charities are important to me personally, and giving to them in any way we can is just the RIGHT thing to do.  Watching the fun unfold with our team was really heartwarming. I'm always proud of them when we get to share experiences like this ….. and hey the hair does grow back!"
Randy Ware, Founder and CEO Emeritus
I participated in this year's Cut for a Cure to support the fight against Pediatric Cancer.  It not only creates awareness in the community for the cause, but it also helps to remind me of how fortunate I am to be in good health.
John Ruppel, Manager, Business Development and Training
I've lost a lot of people to cancer and have seen the process take place and in those circumstances, all I can think is, "I wish there was something I could do to help." Unfortunately, in those situations, it's up to the highly skilled staff to work their magic to save them. Being part of Cut for a Cure allows me, as well as others, to play a small role in raising awareness and funds to support cancer studies. NPCF is an amazing foundation, and I'm grateful to have been part of the journey.
Sylina Barwick, Account Representative
Being a parent myself, anything associated with children gets my attention. Sickness is no fun for kids, let alone cancer… I am doing this to help raise awareness for the cause, as well as hoping to be a good role model for my kids to understand that there are little things they can do to help others.
Mickey Hung, Manager, Sales
Want to help the Pediatric Cancer Foundation? Learn more and donate to the NPCF Cut for a Cure today!