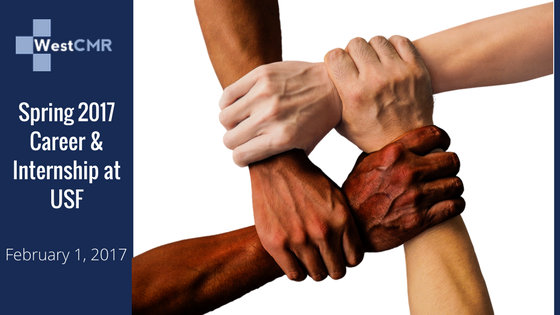 If you're a student at the University of South Florida who is looking for a new career in 2017, then you need to stop by our booth at the Spring 2017 Career & Internship Fair Week at USF on February 1, 2017, to learn all about job opportunities at WestCMR! We are participating on All Majors day only.
About WestCMR
WestCMR is the healthcare industry leader in resolving the surgical supply waste problem worldwide. We are passionate about this industry and the important role we play in helping healthcare go green. How do we do it? We buy and sell in-date surplus surgical supplies. Facilities with overstock benefit as do the surgery centers that need to purchase supplies.
Buying and selling supplies is what we do. People are how and why we do it. Our priority is and always will be the people at every stage of our enterprise whether it's our team, our customers, or the patients who benefit directly from the surgical supplies we help manage. Our people-first approach is why we are consistently named among the "Top 150 Places to Work in Healthcare" by Becker's Hospital Review.
Join us at WestCMR – it's a great place to work!
If you are looking for the chance to join one of the fastest-growing companies in healthcare with a thriving culture and a dynamic staff drop by our booth at the Spring 2017 Career & Internship Fair on February 1, 2017!  Let us know you saw this post, and that you're interested in learning more.
WestCMR is an equal opportunity employer.