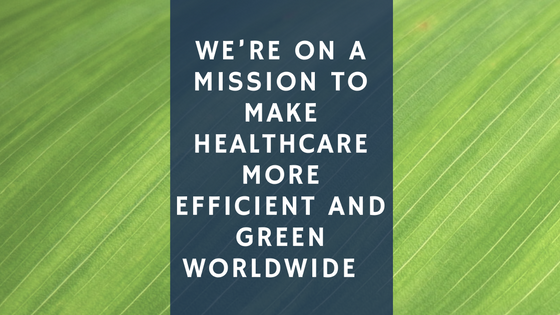 by Randy Ware
When I was a kid, I learned some great lessons by joining my dad on trips to yard sales. We would comb through items that people wanted to get rid of, then we'd take what we purchased to the Dome Flea and Farmers Market in Venice, Florida, to sell them.
These early experiences helped awaken the entrepreneur in me and later contributed to my passion for transforming waste into value. After working in medical sales and seeing the waste in the healthcare supply chain, I recognized the opportunity to bring my passion to play in the healthcare field.
When I founded WestCMR, it wasn't just about making money. Since our beginning in 1997, we've been committed to social responsibility. Environmental conservation has been – and continues to be – a top priority. Additionally, we support charities who serve people in need ranging from the homeless to chronically ill children. Every day, we bring a bigger picture perspective to work. It's in our DNA.
WestCMR helps healthcare facilities recoup part of their investment in surgical supply inventories by providing a way to responsibly liquidate in-date surgical supplies they simply won't use, keeping them from the landfill. We buy those surgical supplies and offer other healthcare facilities the ability to save money by purchasing them in any quantity, every day at a lower price.
WestCMR alone was a great start in putting a dent in waste in the healthcare supply chain, while helping the industry go green. However, it wasn't enough. There was – and still is – far more we can do to create efficiencies and reduce waste. That is why my two other companies partner with WestCMR to collectively help hospitals and surgical centers reduce waste and improve international access to surgical supplies and equipment in the U.S. and worldwide. Here's how it all comes together.
WestCMR provides healthcare facilities a path to recoup part of their investment in surgical supply inventory by buying in-date surgical supplies and at the same time offering other healthcare facilities the ability to save money by purchasing surgical supplies in any quantity every day at a lower price.
Ware Consulting purchases orthopedic power equipment, rigid endoscopy equipment, vascular, robotics, laser products, sterile Synthes and Synthes Instrumentation Sets products from U.S. facilities and resells them to other domestic healthcare facilities at a cost savings.
GeoSurgical sells surgical supplies and surgical equipment (procured by WestCMR and Ware Consulting) to healthcare facilities outside the U.S. and to veterinary facilities at home and abroad.
Together these three organizations serve distinct constituencies while coming together for one important purpose – to help make healthcare delivery more efficient. There are mutual benefits to domestic and international healthcare and veterinary facilities through this partnership that facilitates buying and selling surplus surgical and medical equipment inventory in a highly cost-effective manner.
Think about it this way: The United States represents a small percentage of the world's total population, yet we create the most waste when it comes to salvageable surgical supplies and equipment. WestCMR and Ware Consulting help buy and sell those supplies domestically (each with its own set of customers and markets), and GeoSurgical brings those supplies to an international and veterinary audience.
I'm incredibly proud of the work my team and I have accomplished so far in each of these organizations. I'm also excited about what's in store in 2017 and beyond, because we know there is much more that we can do to reduce waste in healthcare.
If you're attending the MEDICA World Forum for Medicine in Dusseldorf, Germany, November 14 – 17, I want to meet you. Please stop by the GeoSurgical booth (Booth Location: Hall 16 / D05) to say hello and learn more about how we can work together toward a common cause.
Not attending MEDICA? No problem. Catch GeoSurgical at the Arab Health conference in Dubai, United Arab Emirates from January 30 – February 2, 2017!