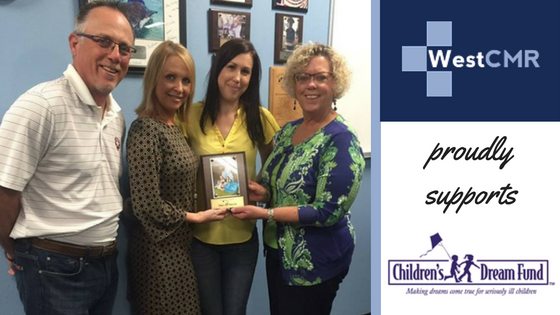 WestCMR is a proud supporter of the Children's Dream Fund. Photo, left to right: Randy Ware (WestCMR) – Jolene Coyle (WestCMR) – Melissa Anderson (WestCMR) – Chris Sabo (CDF).
The team here at WestCMR takes pride in our community and serving its members. One of the nonprofits we've been supporting this year is the Children's Dream Fund. We were so pleased to get this recent update from Christine Sabo, Director of Development for the Children's Dream Fund:
"Betsy, age 3, has a smile that will just melt your heart. She was diagnosed with leukemia in 2015 and underwent several rounds of chemotherapy before finishing her final treatment this summer. To celebrate, she and her family spent a week visiting all of the Orlando area theme parks for the first time and enjoying their special stay at Give Kids the World Resort. Thank you for giving Betsy and her family a dream of a lifetime!"
What an incredible lift to our spirits and a reminder of how important and wonderful it is to support worthy causes in the community.
WestCMR has been helping the Children's Dream Fund make dreams come true since 2009 through contributions and event sponsorships.  Our company giving has reached nearly $70,000 since that time, and our company and employees have participated in several great Children's Dream Fund events such as Rays on the Runway, Bowling for Dreams, and the annual Pumpkin Festival.
Christine let us know that the funds raised have enabled the Children's Dream Fund to continue helping children with life-threatening illnesses throughout west central Florida. As an event beneficiary, the Children's Dream Fund has also made countless new friends and donors through WestCMR's Vendor Appreciation event and Holiday Party.
Randy Ware, WestCMR Founder & CEO, is one of the nonprofit's strongest advocates for the children and families we serve. Randy joined the Children's Dream Fund Board of Directors in 2013.   He currently serves on our Board Development Committee, encouraging other community leaders to get involved with the Children's Dream Fund.  His enthusiasm and passion for our mission have made him an invaluable member of the Board.
Chris recently told us, "We are so grateful to have WestCMR as a partner.  You are changing the lives of seriously ill children in our community." We here at WestCMR are very grateful to have the ability to work with such a worthy and important cause.