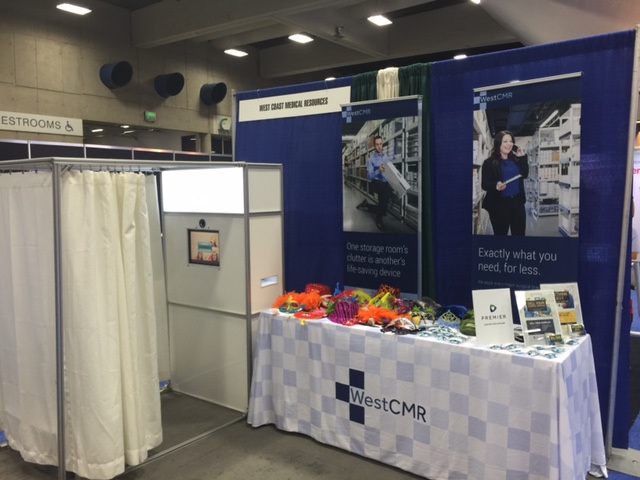 Posted by Sandra Carvalho
Jenn and I had a terrific time at the AHRMM 2016 conference in San Diego this month! It was a great opportunity to meet industry professionals and catch up on topics that are on the minds of many in healthcare such as the potential impact of GPO mergers, inventory management systems and cost savings ideas. Hearing these firsthand perspectives is so valuable to us.
But there was more than healthcare conversation.
The WestCMR booth was THE place to be at AHRMM 2016. Attendees loved the fun photo booth setup at our exhibitor location. Jenn and I had to get in on the act, too!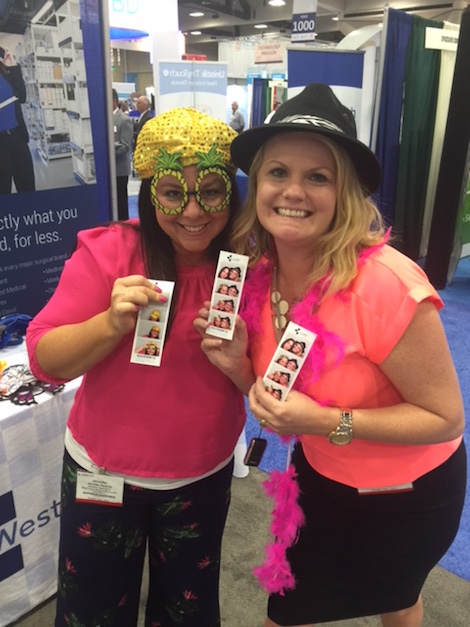 The fun brought a lot new and some familiar faces by our booth and opened up opportunities for deeper conversations about what WestCMR has to offer to the healthcare industry. Both aspects of our business – buying no longer needed in-date disposable surgical supplies and selling surgical supplies – were highlighted at the event. We even brought some cool service-specific business cards to share with people who visited the booth to be sure everyone understands the different ways we can help.
All work and no play….NOT
Jenn and I worked non-stop during the exhibit hours at the AHRMM conference, but we also took some time to enjoy the beautiful city of San Diego. We're from Clearwater, Florida so we're already spoiled with waterside amenities. That didn't stop us from taking in some of the amazing San Diego sights. The weather was absolutely perfect and the food was outstanding. Our favorite restaurant was a place called Puesto located in the old police headquarters down at the Seaport. Best guacamole ever! Jenn really enjoyed the Seal Tour, and could not believe how many sea lions she saw or how incredibly beautiful the Harbor is.
We did a lot of walking during our visit to San Diego. If you are a fellow Floridian reading this, you may have just broken out in a sweat thinking about an outside stroll in August. Visit San Diego, though, and you will discover what a pleasure an August walk can be. We walked to and around Seaport Village and the Gaslamp District. If you have never been, it's a must.
Looking forward to 2017!
AHRMM 2016 was fun and productive. Jenn and I appreciate all of you who dropped by to learn more about WestCMR. Feel free to reach out to me or Jenn to continue the conversation:
West: Sandra Carvalho direct: 727-803-0712
East: Jennifer Perkins direct: 727-803-0713
We hope to see you at AHRMM 2017!