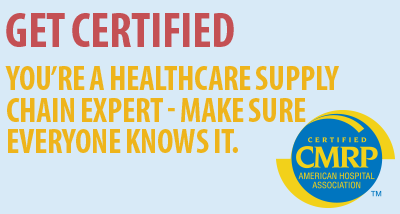 If you have received the CMRP Designation in the past three years or are up for renewal, please contact WestCMR today.  We are interested in learning more about why you chose to pursue this credential because we are establishing a scholarship program to partially sponsor candidates who are taking the examination for the first time, as well as those up for renewal.  Candidates interested in receiving "scholarship assistance" will be given specific instructions on how to qualify.
@WestCMR, we view our role in Healthcare Supply Chain as a partnership with you, your facility, and the parallel concepts of sustainability and accountability.
We believe strongly that every surgical device that enters your facility should be used, and that you should have every reasonable option available to you to make that happen.  Our experience tells us that upwards to 15 % of all the surgical supplies your facility purchases annually eventually get wasted, and that's unacceptable.  This was recently substantiated by Cardinal Health whose team states that in excess of $1.8 Billion dollars of surgical devices are potentially wasted each year (revenue leakage) due to a variety of perfectly explainable reasons.
According to Cardinal Health, it could be consigned inventory, it could be the result of bulk buys and contract "requirements", it could be poor " par level management, it could be closed cabinet (out of sight, out of mind) systems, it could be due to manual (paper) inventory systems and last it could be due to simply to communication breakdowns from employee turnover and "tribal knowledge" being lost in the changes.
To close, @WestCMR we believe strongly in what you do and the responsibilities you bear to provide both exceptional care to your patients and responsible financial stewardship to your organizations balance sheet.  It is for this reason we are interested in putting some "skin in the game" to insure more and more individuals like you are able to amplify your careers with a CMRP certification.
We all leave a footprint …. and it matters.
Randy Ware Founder and CEO West Coast Medical Resources, LLC Providing responsible asset recovery in healthcare since 1997.