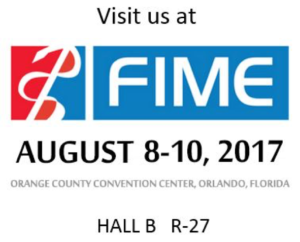 Every August, the FIME trade show takes place in Florida, showcasing medical companies from all over the world. FIME, or the Florida International Medical Expo, will be held in Orlando this year on August 8th until the 10th. Typically held in Miami, FIME is the largest medical trade show held in the United States. Thousands of vendors and medical professionals will be in attendance from all over the world, including GeoSurgical.
Throughout its existence, GeoSurgical has attended several other international trade shows, including the Medica conference in Germany, as well as Arab Health in Dubai. Although three representatives from the company visited the FIME show last year, this is the first year they will be exhibiting and be able to meet thousands of distributors from North, Central, and South America.
The exhibition will have over 20,000 individuals in attendance and unlimited potential for the GeoSurgical team to gain international exposure and show how we can help in providing potential customers with quality surgical supplies for a fraction of the cost.
Will you be attending FIME? If so, stop by Hall B R-27 and say hi!