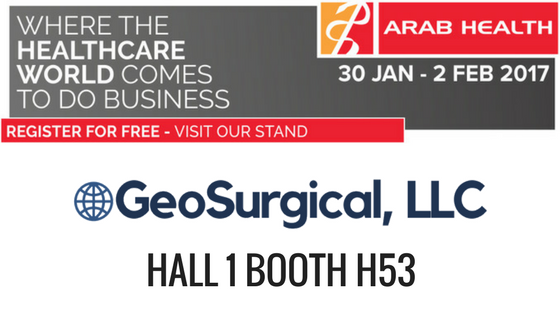 GeoSurgical, WestCMR's sister organization, will exhibit at this year's Arab Health 2017 Show. This is a terrific opportunity to provide wholesalers in the MENA (Middle East & North Africa) region access to quality, well-known surgical supplies at a fraction of the cost.
Wholesalers who stop by Hall 1 Booth H53 get a chance to learn more about the GeoSurgical difference. With GeoSurgical, wholesalers can
purchase brand name, in-date surgical supplies from the United States
shop with ease, no hassles, and not have to "outbid" someone
feel confident purchasing and reselling unopened, high-quality items
Will you be attending Arab Health? If so, stop by the GeoSurgical booth – Hall 1 H53 – and see how we can help your wholesale business procure quality surgical supplies at a fraction of the normal cost.