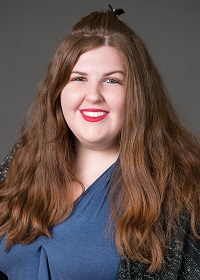 What is your position at WestCMR?
Strategic Accounts Representative for GeoSurgical
How long have you worked at WestCMR?
4 years and 7 months
Alma Mater?
University of South Florida
Describe yourself in 3 words.
Reliable – Compassionate – Helpful 
Name one thing on your bucket list.
Visit Santorini, Greece
Here are a few fun facts about Kassandra:
She was born and raised in Florida

She studied history in college

She is an avid animal lover
Explain your favorite WestCMR experience.
One of my favorite experiences at WestCMR was when we held a "Dunk the boss" event to raise money for charity. Our CEO sat in a dunk tank, and we all had the opportunity to dunk him, it was a blast!
What Kassandra's team says about her: 
 "Kassandra is a very supportive and caring person. She has the most powerful memory. I call her my walking file cabinet."  – Angel Vazquez

 

"Kassandra is always willing to help others. She is a dependable member of the Geo team who keeps us laughing with her quotes from the Office!" – Sylina Barwick