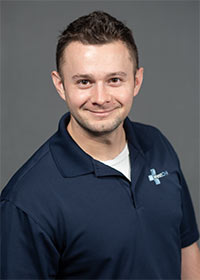 Meet Jordan Hardin, Strategic Accounts Representative here at WestCMR. Jordan works on the Central Acquisitions Team, where he focuses on establishing relationships to bring in new product.
Jordan has been with WestCMR for 8 months. His career began in the food industry, but he found that he had more of an entrepreneurial spirit. He moved from Arkansas to Florida to pursue his dreams and hasn't looked back.
Here are a few fun facts about Jordan:
He is one of 7 siblings.
He is a current member of the Army National Guard.
He was a state champion in track.
What does the Acquisitions Team do here at WestCMR and how does that help our clients?
My job as an Acquisitions Representative is simple; save hospitals money and cut down on landfill waste. WestCMR has been so successful over the years because its business model makes sense. No matter what field you work in, budgets matter, and if you are able to cut down on losses by monetizing otherwise obsolete inventory, you will always come out ahead.
Tell us three reasons why you would recommend someone to consider a career at WestCMR.
The three reasons I would recommend anyone to work here would be because of the work-life balance, monetary benefits, and our office environment.
As a previous restaurant manager, I never had a day off. Whether it be covering someone's shift or issues within the workplace, I was on call 24/7. When I came to WestCMR, it was like a breath of fresh air. I could clock in, grind out all of my work for the day and go home and rest. We all have things we need to take care of in our personal lives. I have never had an issue taking the time off required of me to do so.
Secondly, the money speaks for itself. Most commission based jobs I applied for in the past were paid solely based from that. Commission. It's hard to establish a client base when you first start a job, and to have to depend on 100% commission is not sustainable for long. WestCMR wants to make sure you can still live your day-to-day life while you work to establish your brand; not to mention, the bonus structure is top tier!
Finally, the workplace environment can't be beat. I've never worked with such a group of professionals who genuinely care about the success of the other individuals around them. The wins are celebrated, and the losses are treated as lessons, not with negativity. At any moment, I feel comfortable asking any of my colleagues for help, all the way from the top down. You can't ask for more than that.
Shine a spotlight on a fellow WestCMR employee. What has he or she taught you during your time here?
One of the employees that has impacted me the most is John Ruppel. Whether I was training with him or listening in on his phone calls, I could tell that he loves what he does. He is excited to come into work every day and searches for every opportunity he can to help anyone around him, including our clients. He has taught me exactly what it takes to be successful here.