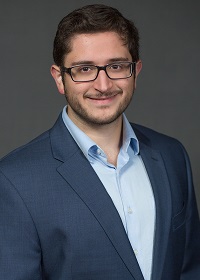 Meet Michael Roxin, Strategic Accounts Representative here at WestCMR. Michael handles sales and acquisitions of surgical disposables and medical devices to and from hospitals and surgery centers throughout the Western United States.
Michael has been with WestCMR for almost 1 full year. His career started in part-time sales in another industry and transitioned to full-time sales in the medical industry. At WestCMR, he started off as a business development specialist and graduated to a strategic accounts representative at the beginning of 2018.
Here are a few fun facts about Michael:
He is currently pursuing a Master's in Public Health at USF.
Enjoys using free time to exercise, lift weights and eat great food.
Dog lover!
Here's What Michael Has to Say About . . .
His team's role
What does the West Sales and Acquisitions Team do here at WestCMR and how does that help our clients?
Here on the West team, we help hospitals and surgery centers in states west of the Mississippi deal with surgical inventory issues. The biggest issue we help with is overstock, or surplus. When facilities encounter items that will not be used, instead of throwing them out or eating the cost, we help them and buy them back. We also specialize in selling the devices they already purchase but at a smaller unit of measure, and a better price, to help counter the production of waste in the first place. These measures save time and money they would otherwise be throwing out.
Unused Surgical Supplies
Before you started working at WestCMR, what did you think happened to surgical supplies sitting in hospital stock rooms if they were never used? What surprised you most about the surplus surgical supplies issue?
Before I started working at WestCMR, I never thought about surgical supplies, much less expiration dates or overstock. Since I began here, I was absolutely shocked to learn the amount of waste each individual operating room generates each year in both volume of supplies and money.
Why WestCMR is a Great Place to Work
Tell us three reasons why you would recommend someone to consider a career at WestCMR.
The company culture is incredibly fun, inclusive and driven.
You get to make a positive impact in the world.
There's a gym!