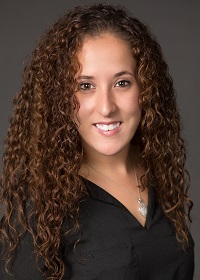 Meet Melissa Fischer, Administrative Assistant here at WestCMR. Melissa supports the day-to-day administration for the CEO and provides support to other departments.
Melissa has been with WestCMR for 1 year. Her career began with database work, but she quickly moved into an administrative role.
Here are a few fun facts about Melissa:
I have 3 animals: 1 Bernese Mountain Dog named Howl and 2 cats named Vanilla Bean and Figaro.
I have an unhealthy obsession with Nachos.
Arts and Crafts = Life.
Here's what Melissa has to say about . . . .
Unused Surgical Supplies
Before you started working at WestCMR, what did you think happened to surgical supplies sitting in hospital stock rooms if they were never used? What surprised you most about the surplus surgical supplies issue?
My fiancé works in the medical field, so I understood that there was a surplus of surgical supplies that is trashed. I was surprised to find out how bad it really is. The lack of effort to control  it and the damages it has on our environment was shocking as well.
Why WestCMR is a Great Place to Work
Tell us three reasons why you would recommend someone to consider a career at WestCMR.
WestCMR has a wonderful attitude towards helping our community. It's an honor to be part of a company that cares so much.
The employees here are amazing. Hands down, the best.
The benefits and perks that are provided to the employees are unbeatable!
Coworkers
Shine a spotlight on a fellow WestCMR employee. How is he or she exemplify WestCMR's corporate values and mission? What have they taught during your time here?
Everyone here is truly amazing, but I would shine the spotlight on Heather Wagner. She has helped me learn so many different things at WestCMR in such a short amount of time. She is always there to support and encourage me. I admire her outgoing attitude and her ability to stay true to herself. She makes each day a learning experience and mini adventure. She may not realize it, but she is a true treasure and an amazing friend to have.